Best Friend Natural Bites chicken heart 275g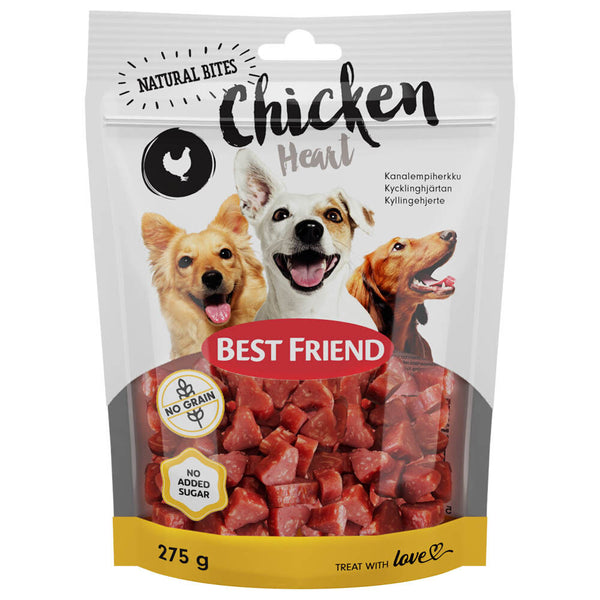 Best Friend Natural Bites chicken heart 275g
Best Friend Natural Bites chicken heart treats are deliciously cute treats rich in chicken! This heart-shaped treat is suitable for all adult dogs. Because of its palatability and size, this dog treat is also perfect for training. The grain-free composition of chicken heart treats contains plenty of protein and real chicken. Cod adds more palatability and good fats to the treat. These treats don't contain any sugar or soy. Best Friend chicken heart treat is a tasty snack for your best buddy! Convenient resealable packaging.
Feed composition:
Chicken 64,8 %, codfish, vegetable protein, glycerin, vegetable starch, vegetable oil, salt.
Natural antioxidants:
EC permitted colorants.
Animal nutrients:
Protein: 26
Water: 28
Fat: 2
Fibre, crude: 1
Ash: 2.5
Feeding instructions:
Meaty snack which can be fed as a reward or a treat for your dog. Not suitable for puppies under 4 months old.
Consumer usage instructions:
Always ensure fresh drinking water is available. You should keep an eye on your dog when it eats. NOTE! Oxygen absorber bag is not edible, keep out of reach of pets.