Best Friend Holiday mix treat for dogs 300g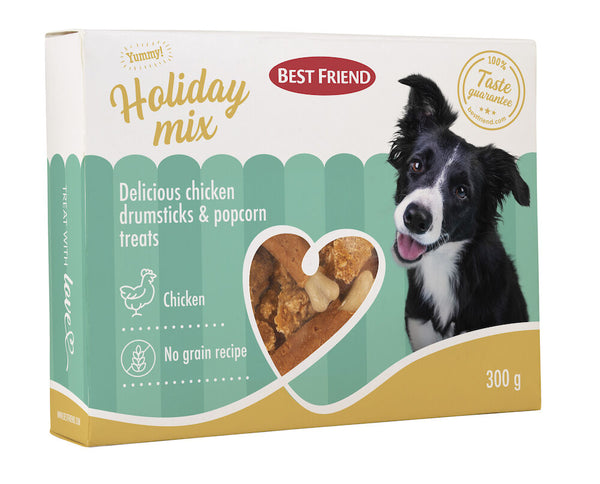 Best Friend Holiday mix treat for dogs 300g
Best Friend Holiday treat mix contains plenty of meaty and extra tasty treats for dogs! This treat mix has all the favorite chicken snacks a dog could ask for! You can pamper your dog with these fun snacks or give them as birthday present. This lovely box of snacks can be given as a present for your friends who have dogs. The tastiest chicken snacks for your favorite doggy friend!
Feed composition:
Chicken drumstick: Chicken 55.6%, vegetable starch, vegetable protein, glycerin, calcium carbonate. Chicken popcorn: Chicken 80.1%, vegetable protein, vegetable starch, glycerin, pea fiber, salt.
Natural antioxidants:
Sensory additives (colourants).
Feeding instructions:
A tasty and meaty treat for dogs. Can be offered as a special treat alongside a balanced diet.
Consumer usage instructions:
Remember to keep fresh water available to your pet at all times.