Best Friend chicken & fish complete feed for sterilized cats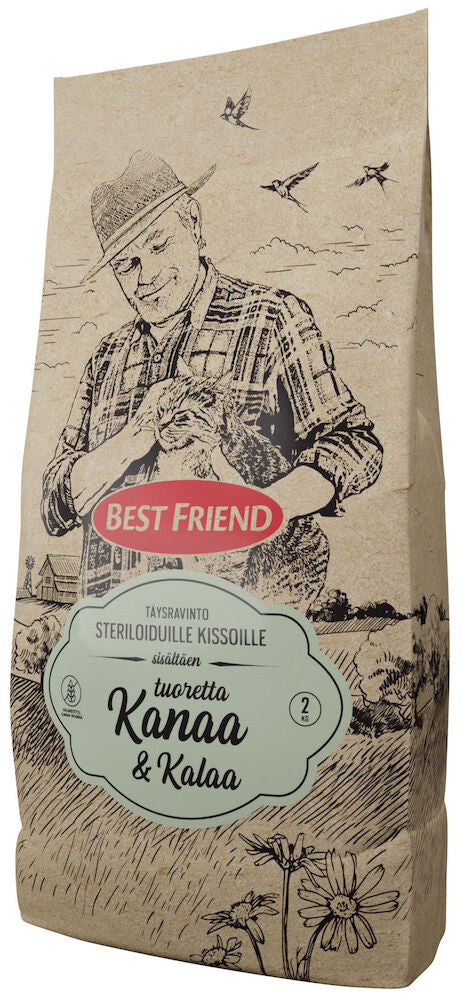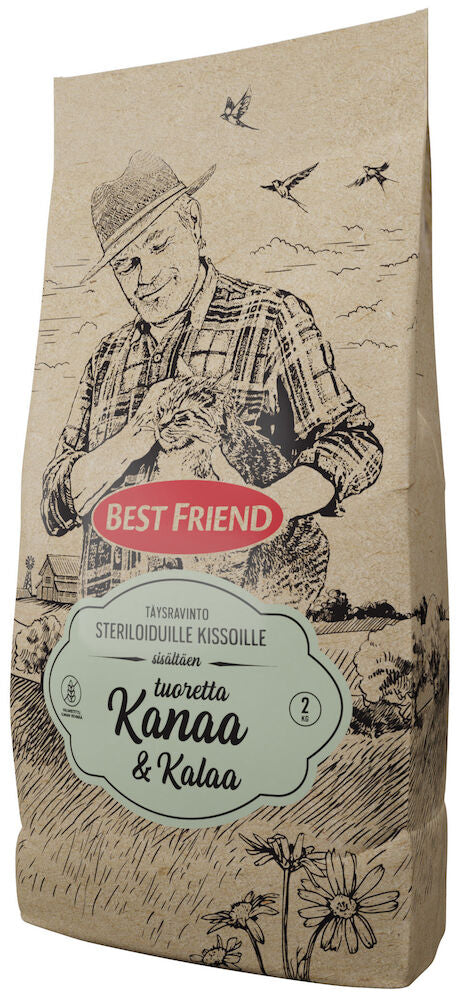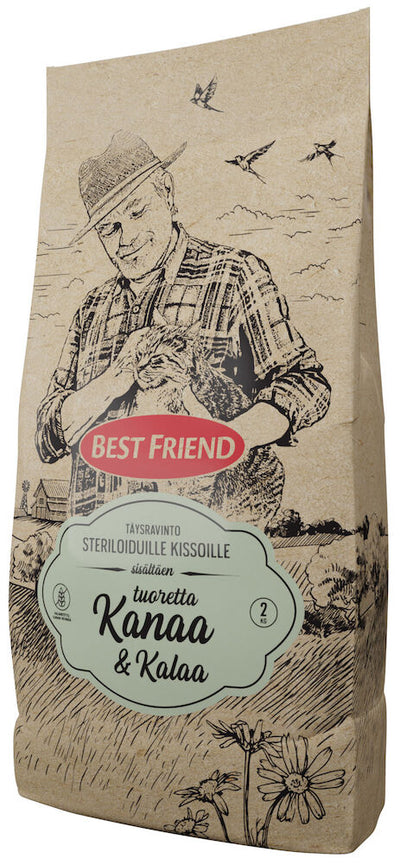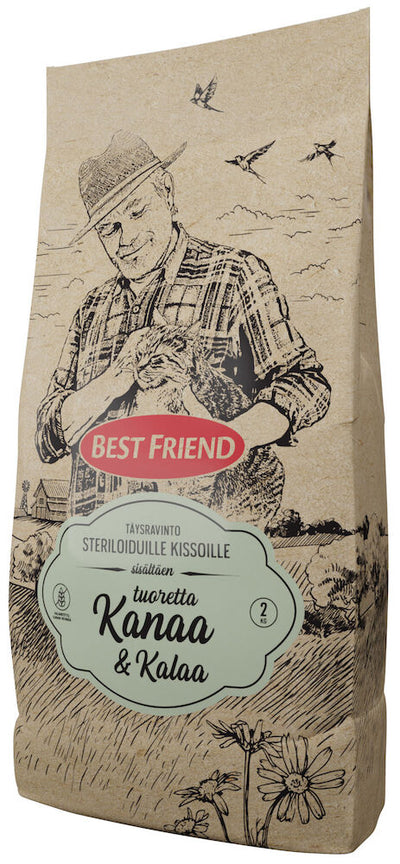 Best Friend chicken & fish complete feed for sterilized cats
Best Friend chicken & fish for sterilized cats -Nordic freshness, taste from authentic quality ingredients and apprecation for the local producers.
We don't compromise on quality, therefore sustainability and responsibility are close to our hearts. Produced by environmentally friendly wind power at our own factory in Denmark.

Our recipe is designed for sterilized adult cats regardless of breed. Freshly added chicken liver and hearts are a nutritious and easily digestible protein and guarantee an excellent taste. The essential omega-3 fatty acids in salmon oil support the well-being of fur and skin. Fibers and prebiotics help support digestion and maintain intestinal well-being. Cellulose fiber also helps prevent the formation of hairballs.
Feed composition:
Processed animal protein (poultry/chicken, 34%), maize, rice, beet pulp, alfalfa (dried), chicken fat, fresh chicken liver and hearts (4%), fish meal (4%), maize protein, cellulose fibre, minerals, salmon oil (cold pressed 0,5%), mojave yucca (0,01%).
Vitamins:
Vitamin A 18000 IU/IE/KG, Vitamin D3 1800 IU/IE/KG, Vitamin E (alfa-tokoferol) 180 IU/IE/KG, Vitamin B1 3,0 mg/KG, Vitamin B2 12 mg/KG, Vitamin B6 2,4 mg/KG, Vitamin B12 0,12 mg/KG, Biotin 0,03 mg/KG, Niacin 25,8 mg/KG, Calcium-D-Pantothenate 36 mg/KG, Folic acid 0,48 mg/KG, Choline chloride 2400 mg/KG
Natural antioxidants:
EU antioxidants and EU preservatives.
Metabolizable energy:
364 Kcal/100g
Trace elements:
3b202 Calcium iodate, water free 6,68 mg/KG, 3b406 Copper chelate of amino acids hydrate 1,00 mg/KG, 3b605 Zinc sulphate, monohydrate 233,28 mg/KG, 3b801 Sodium selenite 0,19 mg/KG, 3b8.12 Selenomethionine 0,013 mg/KG.
Fatty acids:
Omega-3 fatty acids, calculated 2,86 g/KG, Omega-6 fatty acids, calculated 15,63 g/KG
Animal nutrients:
Protein: 33
Fat: 11
Fibre, crude: 5
Ash: 7.5
Water: 5.5
calcium: 1.1
phosphorus: 0.9
magnesium: 0.1
Feeding instructions:
Amount of food may vary by up to +/-25%, depending on the sex, age and activity level of the cat. We recommend giving your cat 2 balanced meals per day. Remember that cats should always have access to plenty of fresh drinking water. Best Friend cat food is ready to serve either directly or moistened with warm bouillon or water.
Consumer usage instructions:
Remember that cats should always have access to plenty of fresh drinking water.