Best Friend Hoops & Loops crunchy duck treat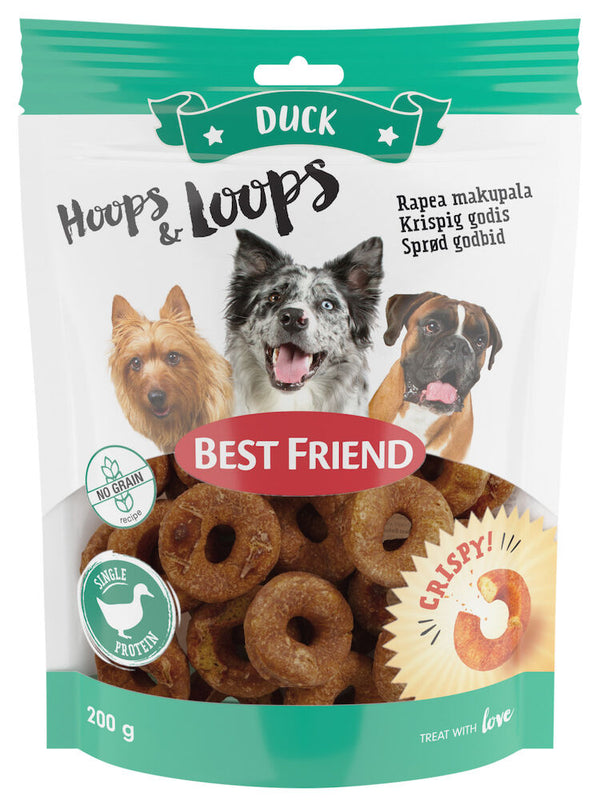 Best Friend Hoops & Loops crunchy duck treat
The Best Friend Hoops & Loops snacks are perfect for daily pampering and rewarding. The crunchy and tasty snacks mainly consist of low-fat duck breast, which is also the only source of animal protein in the product. The completely grain-free snacks also contain plenty of high-fibre sweet potato and potato. The snacks are completely free of artificial colours, flavourings and preservatives.
Feed composition:
Duck breast powder (33 %), sweet potato flour, potato starch, vegetable glycerin, vegetable oil, calcium carbonate.
Vitamins:
Vitamin E 90 IU/kg
Metabolizable energy:
320 Kcal/100 g - 1339 KJ/100 g
Additives:
Technological additives: Potassium sorbate. Sensory additives: Colorant caramelized sugar.
Animal nutrients:
Protein: 20
Water: 14
Fat: 1
Fibre, crude: 1
Ash: 5
Feeding instructions:
Delicious snack which can be fed as a reward or a treat for your dog.
Consumer usage instructions:
Not suitable for puppies under 4 months old. Always ensure fresh drinking water is available. You should keep an eye on your dog when it eats. NOTE: Oxygen absorber bag is not edible, keep out of reach of pets.