Best Friend Bilanx Grain Free Sterilized complete feed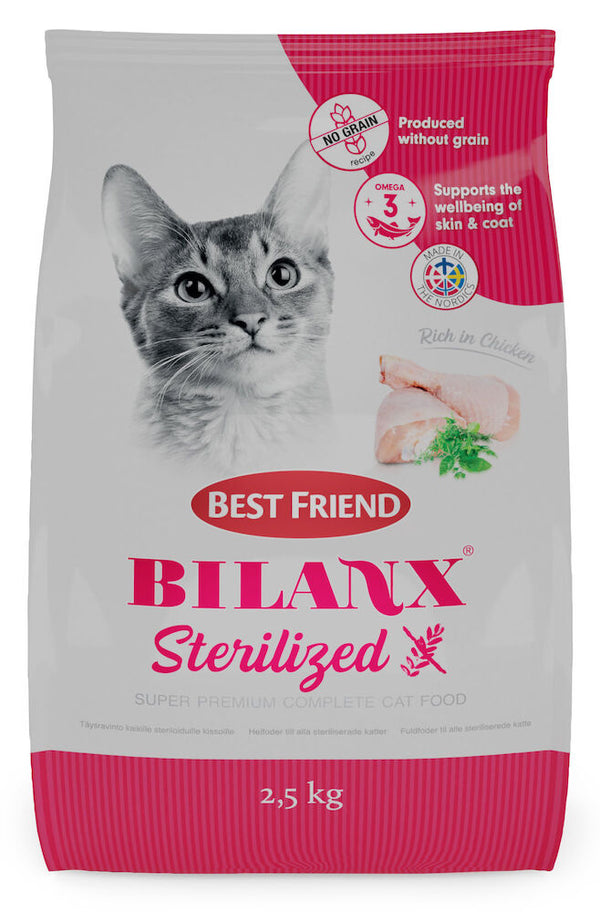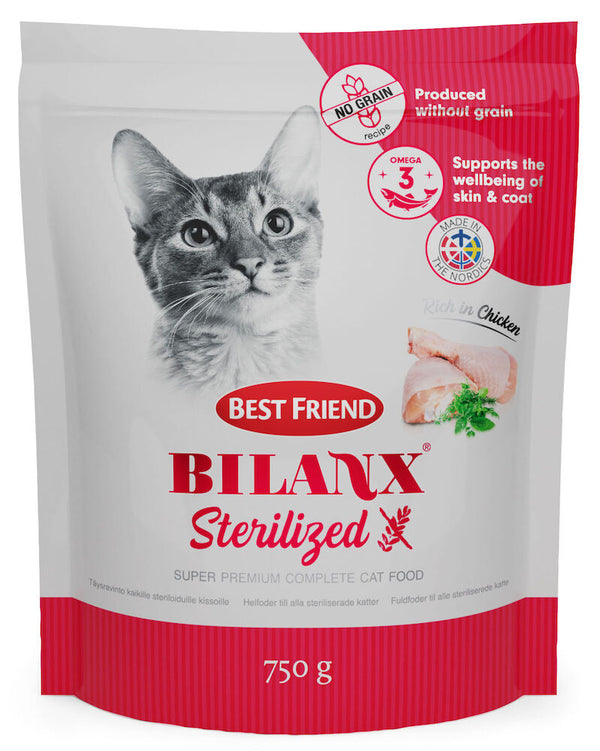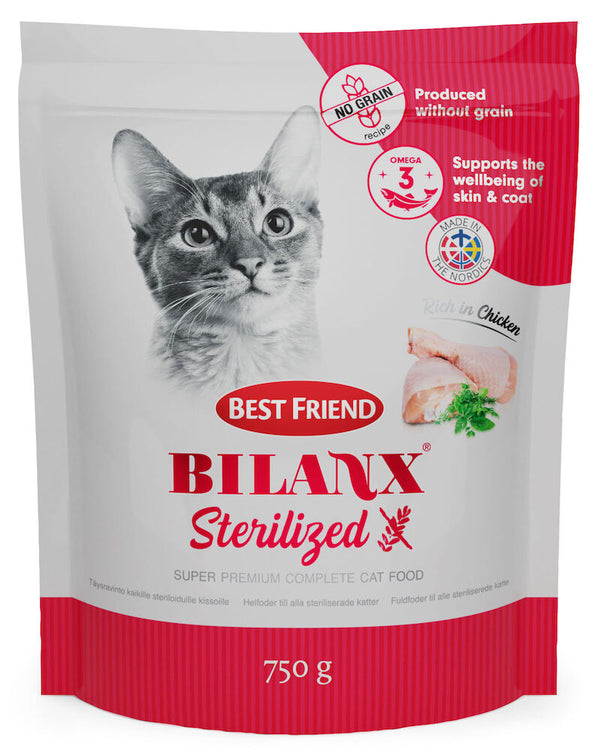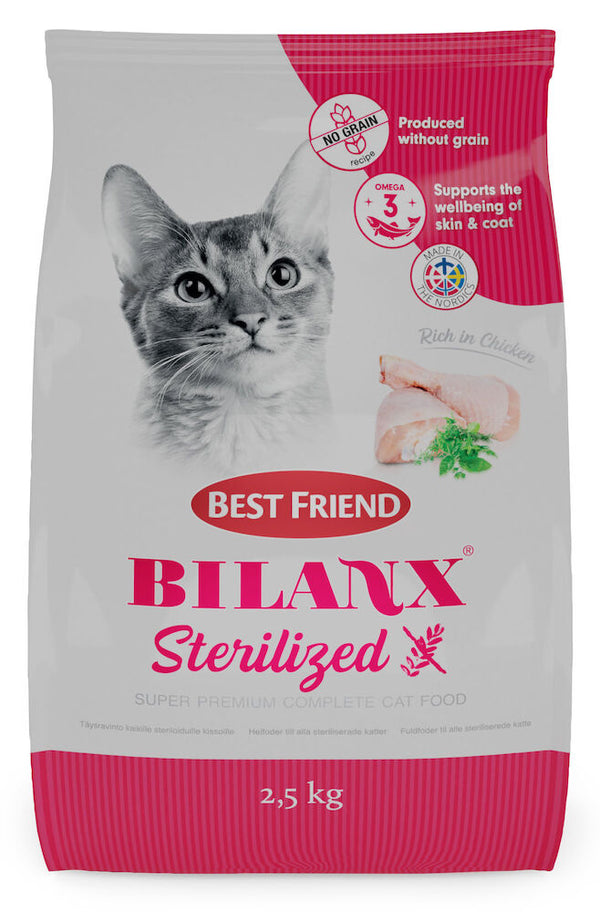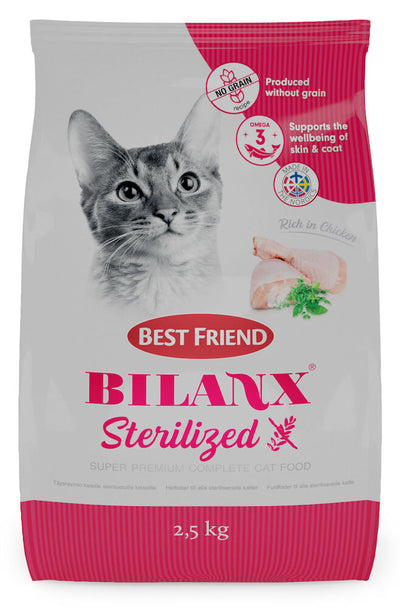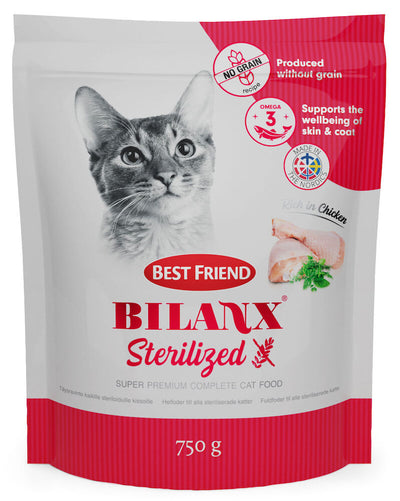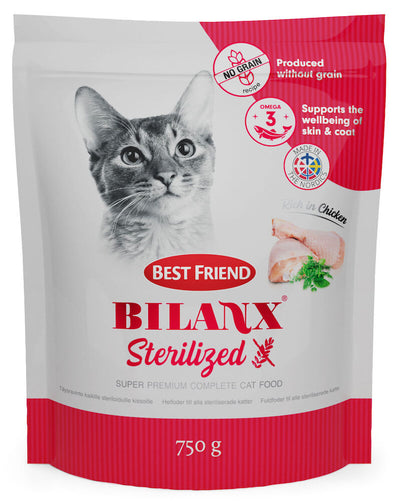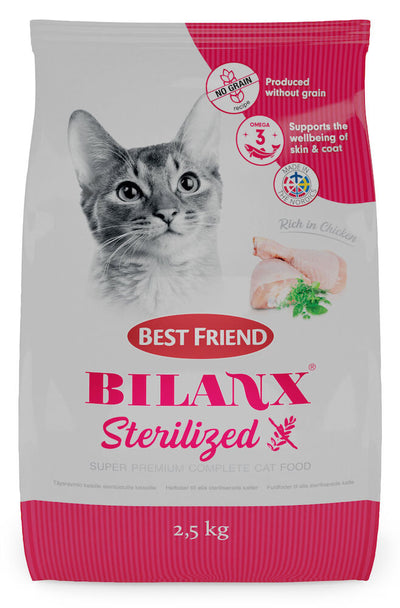 Best Friend Bilanx Grain Free Sterilized complete feed
Bilanx Grain Free Sterilized - High quality, nutritious food for cats. Why not offer only the best for your cat? Bilanx Grain Free Sterilized is a super premium complete cat food which contains all the necessary nutrients your cat needs for a healthy, happy life.
Bilanx recipes are continuously developed by our Veterinarians in order to enhance the palatability of the food. High meat content complies with the natural preferences of cats. Taste is everything!
Both our product lines; Grain Free & Whole Grain have harmonized, updated packages. Fresh and eyecatching appearance reflects beautifully our core beliefs of pure, high-quality ingredients and locality. Produced in Denmark our Bilanx cat food offers not only high quality food for your best friend, but also a touch of Nordic expertise to the plate.
Bilanx – only the best for your cat!
Feed composition:
Processed animal protein (poultry/chicken), peas, potato starch, pea starch, fish meal, beet pulp (dried fibers), egg products (dried whole egg), chicken fat, cellulose fibre, hydrolysed animal proteins (chicken digest), chicken liver meal, brewers yeast, alfalfa (dried), salmon oil (cold pressed), fructo-oligosaccharides, mojave yucca.
Vitamins:
Vitamin A19980 IU/IE, Vitamin D3 1998 IU/IE, Vitamin E (alfa-tokoferol) 200 IU/IE, Vitamin B1 3,33 mg, Vitamin B2 13,32 mg, Vitamin B6 2,66 mg, Niacin 28,64 mg, Calcium-D-pantothenate 39,96 mg, Vitamin B12 0,13 mg, Biotin 0,03 mg, Folic acid 0,53 mg, Choline chloride 3200 mg.
Natural antioxidants:
EU antioxidants and EU preservatives.
Metabolizable energy:
368 Kcal/100g
Trace elements:
Calcium iodate, water free (3b202) 4,97 mg, Zinc suplhate, monohydrate (3b605) 94,25 mg, Sodium selenite (3bE8) 0,097 mg, Selenomethionine (3b8.12) 0,004 mg.
Fatty acids:
Omega-3-fatty acids, calculated 4,71 g, Omega-6-fatty aciids, calculated 15,18 g.
Additives:
DL-methionine 15,0 g, Taurine 1000 mg, Phosphoric acid 5,0 g, Ammonium chloride 2,0 g, DL-methionine 15,0 g.
Animal nutrients:
Protein: 33
Fat: 11
Fibre, crude: 4.5
Ash: 7
Water: 5.5
calcium: 1.2
phosphorus: 1
magnesium: 0.1
sodium: 0.4
potassium: 0.8
Feeding instructions:
Amount of food given in the table is only a guide and may vary by up to +/-25%, depending on the sex, age and activity level of the cat. 1 dl = 45 g. We recommend giving your cat 2 balanced meals per day. Bilanx is ready to serve either directly or moistened with warm bouillon or water. Your animal's needs for food will vary according to age, weight, breed, sex and activity level. As it is important that your pet receives the correct amount of food, please consult the pack for complete detailed feeding instructions.
Consumer usage instructions:
Remember that cats should always have access to plenty of fresh drinking water.