Best Friend Bones Vitality chew + vitamins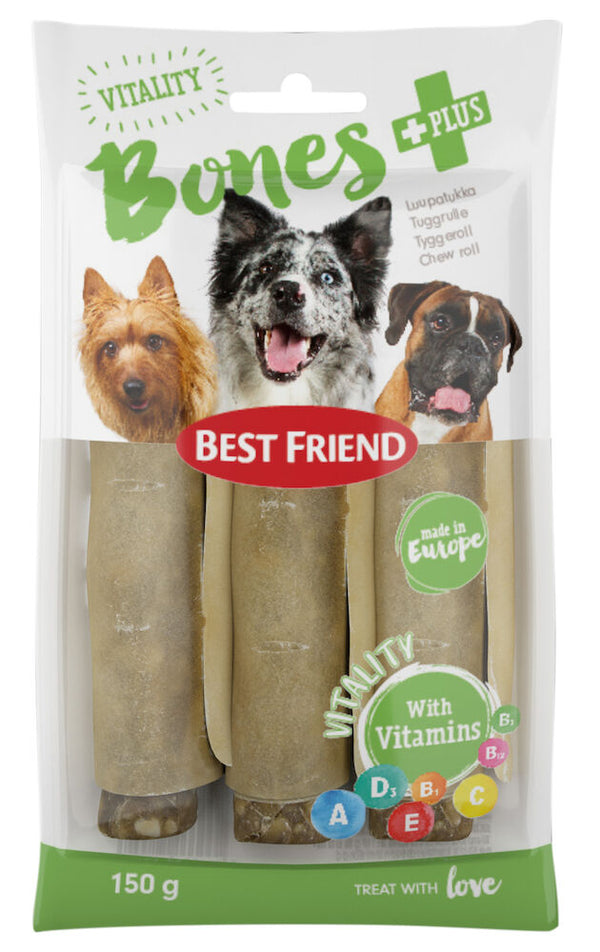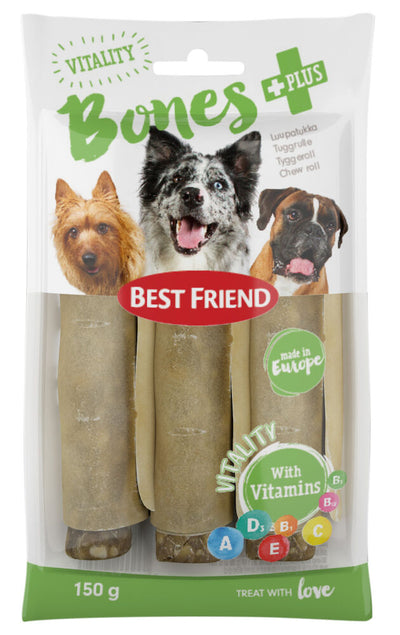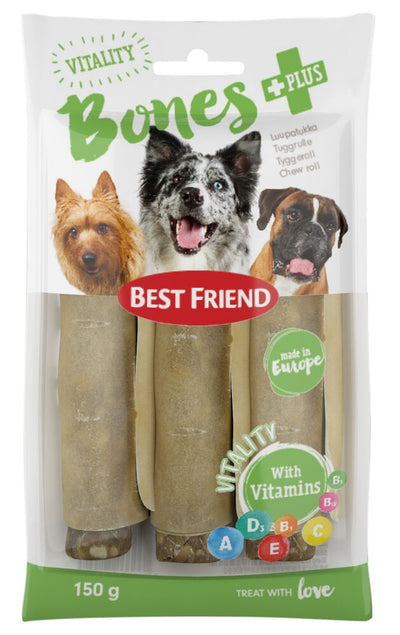 Best Friend Bones Vitality chew + vitamins
Best Friend Bones Vitality Chew Roll is an innovative treat for chewing: it combines the advanced properties of chew bones with vitamins. Chewing keeps the system going, and vitamins are essential for metabolism. The vitamins added to the Best Friend Vitality chew rolls maintain vitality in a form that the dog can enjoy – no more unpleasant swallowing of pills. Regular use of chewing products helps maintain tooth and gum health and prevent bad breath. Chewing products also make for excellent entertainment and effectively invigorate your dog during dull moments while stimulating the natural chewing instinct.
Feed composition:
Ox hides 94,0 %, vitaminmix 3,0 %, ox tripe 2,0 %, ox pizzle 1,0 %.
Vitamins:
Vitamin A 10000 IU/kg, Vitamin D3 1350 IU/kg, Vitamin E 50 mg/kg, Vitamin C 5,0 mg/kg, Vitamin B1 5,0 mg/kg, Vitamin B2 7,0 mg/kg, Vitamin B6 5,0 mg/kg, Vitamin B12 30µg/kg, Biotin 250 µg/kg, Niacin 40mg/kg, Vitamin K 4,0 mg/kg, Pantothenic acid 20 mg/kg, Folic acid 2 mg/kg, Choline 100 mg/kg
Animal nutrients:
Protein: 91.8
Fat: 1.9
Fibre, crude: 0.4
Ash: 3.3
Feeding instructions:
Chewing bone for all dogs.
Consumer usage instructions:
1-2 chews per day, depending on the size of your dog. Always have fresh water available for your dog. You should always keep an eye on your dog when it is given chewing bones.