Cat's Best Original 7 l cat litter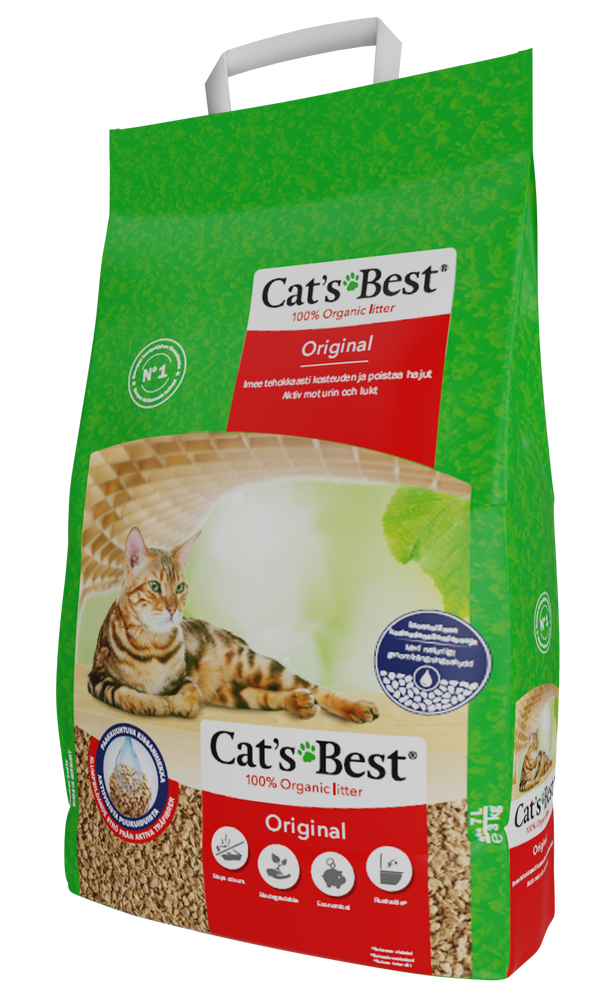 Cat's Best Original 7 l cat litter
Cat's Best® Original is designed by plant fibre technology. With the new ICS* WOOD FIBRE TECHNOLOGY, active wood fibres are technologically refined to absorb urine and odours particularly quickly and trap them permanently – all naturally. This ensures a pleasant cleanliness in the litter tray that lasts for a long time without requiring a complete change. Cat hygiene becomes easier because Cat's Best® Original is lighter and is up to 3x more absorbent than ordinary cat litter. In other words – less work and less hassle: because transporting the litter and litter box cleanup are a breeze. Individual clumps can even be flushed in a household toilet (please observe local disposal regulations).

Naturally soft under the paws and made from renewable PEFC-certified secondary raw materials from the timber industry. Cat's Best® is natural, therefore variations in colour and structure are possible. Biodegradable. (*Intelligent Capillary System)
Detailed composition:
wood fiber
Consumer usage instructions:
Pour approximately 7 cm of Cat's Best cat litter in the cat litter tray. Remove solid clumps and excrement daily with a cat litter scoop and add fresh cat litter as needed. Change the cat litter and clean and disinfect the cat litter tray as needed, or at least every few weeks. Store the cat litter in dry conditions at room temperature. Dispose of used cat litter as household waste (please observe local disposal regulations). Sometimes cats can be reluctant to accept a new type of cat litter. In that case, change the cat litter by mixing some of the previously used product with the new cat litter in the cat litter tray for about a week. Pregnant women should avoid direct contact with cat faeces and wear protective gloves or a cat litter scoop when cleaning the cat litter tray.