Best Friend Festival Exclusive Budgie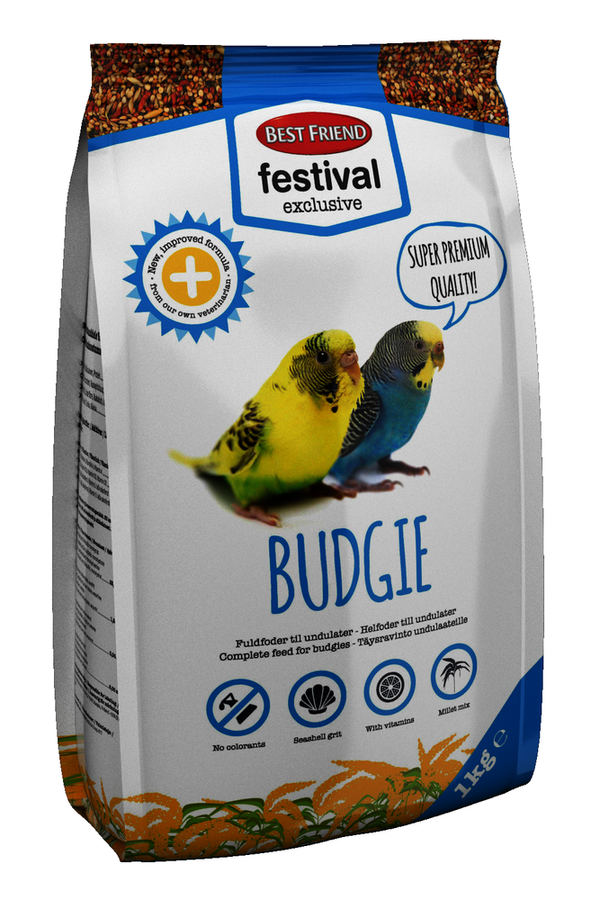 Best Friend Festival Exclusive Budgie
The Best Friend Exclusive line has been developed in collaboration with veterinarians. The complete foods are rich in vegetables as well as important vitamins, minerals and essential amino acids.
Feed composition:
Yellow millet (25%), Red millet (21%), Canary seed, White millet / Panicum seeds (10%), Oats, Senegal millet (5%), Rape seeds, Sorghum, Oystershells (3%), Japan millet (3%), Niger seeds, Maize middlings, Algier millet (1%), Linseeds, Whole egg powder, Fructose, Vegetable oil, Sodium Chloride, Anise oil.
Vitamins:
Vitamin A 4050 IU/kg, Vitamin D3 405 IU/kg, Vitamin E / alfa-tokoferol 40,5 mg/kg
Natural antioxidants:
EU antioxidants and preservatives.
Trace elements:
Zinc (Zn) added as Zinc sulphate, monohydrate 52,49 mg/kg, Iodine (I) added as Calcium iodate, waterfree 1,55 mg/kg, Selenium (Se) added as Sodium selenite 0,04 mg/kg, Iron (Fe) added as Iron oxide 6,00 mg/kg
Animal nutrients:
Protein: 13
Fat: 7
Fibre, crude: 7.5
Ash: 6
Feeding instructions:
Best Friend Festival exclusive complete feed cover your budgies daily nutritional needs. This feed contains grit - which contributes to healthy digestion - and essential vitamins, minerals, trace minerals and essential amino acids. Serve the feed to your bird ad libitum in a clean bowl.
Consumer usage instructions:
Make sure the birds always have access to food served on a clean dish. Remove empty hulls from the dish every day. Always have fresh water available.