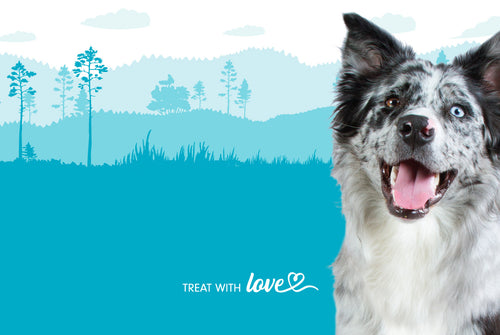 Did You Remember The Dog Chews?
The Most Delicious Dog Chews Now in Renewed Packaging.
Dogs have an innate need to chew. By chewing, dogs explore the world around them, exercise their jaw muscles and take care of their teeth. Dogs also unload e.g. stress, anxiety and boredom by chewing. So what's a better pastime for dogs than gnawing on delicious dog chews?
Gnawing on Best Friend chews helps prevent boredom. Bones of different shapes and compositions also offer an excellent brain teaser for the dog. By regularly offering the dog a variety of chewing bones with different compositions, the dog's natural tendency to chew can be directed to permitted objects instead of, for example, shoes or furniture.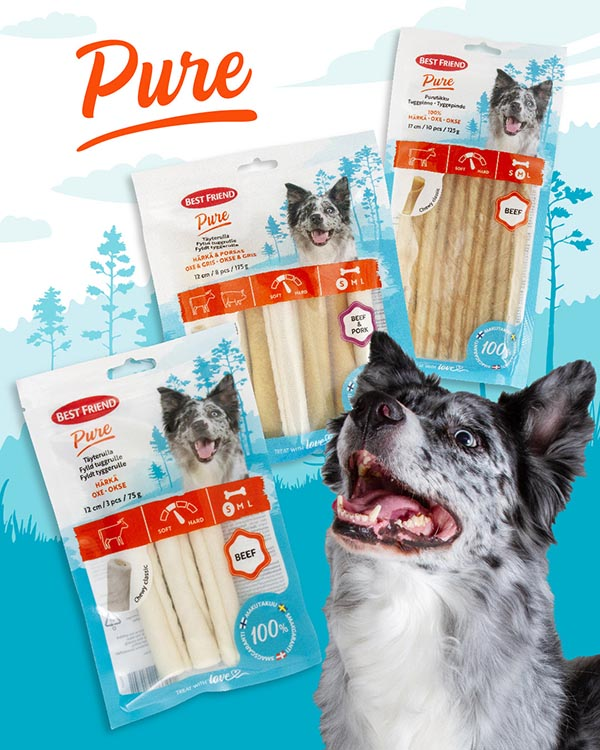 Best Friend Pure Dog Chews - Finest Dog Chew Classics!
Our Pure dog chews are familiar classics loved by all dogs wth a modern twist!
Pure dog chews are mainly made from only one animal protein source, and the composition of these bones guarantees long-lasting chewing comfort even for dogs with stronger chewing power. In addition, there is a tasty plant-based filling inside these chews, which makes both the taste and the chewing resistance perfect! The super popular Best Friend Pure stuffed roll bull 12 cm is a delicious little roll for small dogs with strong chewing power. Our Pure dog chews assortment has plenty of grain-free and wheat-free options and, thanks to their low fat content, they are suitable for a wide range of diets. These chewing bone classics also contain no sugar. So no unnecessary added, only safe and high-quality ingredients, only the best for your dog!
Long lasting dog chews chew bones are the most popular among dog owners, and chewing them is a very pleasant and activating pastime for dogs. Gnawing bones awakens dogs' natural tendency to chew and effectively cheers up boring moments. When offering chew bones regularly, they can also help maintain the health of the dog's teeth and gums. The use of chews can also help to prevent dog's bad breath.
Chew the best – Fetch Pure classic dog chews! 
Read More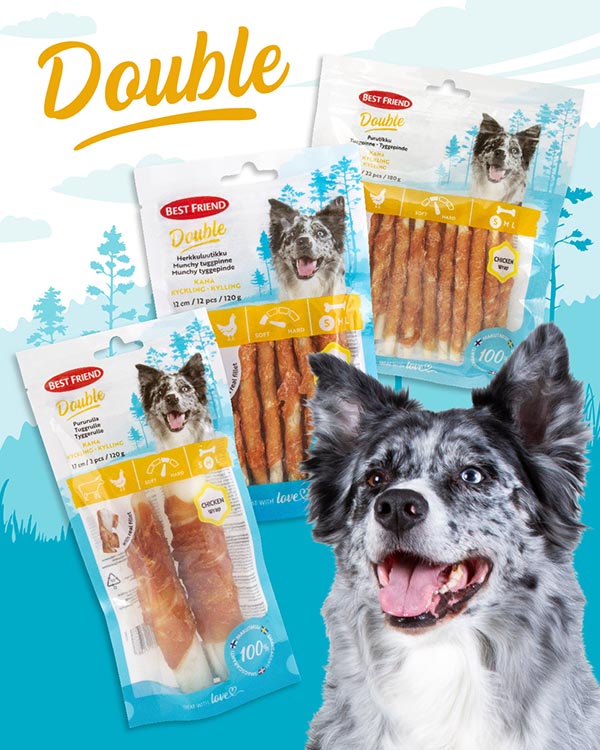 Best Friend Double Dog Chews - Always Real Fillet!
Our Double dog chews are covered with delicious, real fillet! And that, if anything, makes every dog's tail wag!
The wide selection of Double dog chews are suitable for different types of chewing needs. These chews have been covered with real fillet, either chicken or duck, that improve the taste even more. Our popular Best Friend Double chewy roll with chicken fillet has 100% more chicken than before, so it's also twice as tasty! For dogs with weaker chewing power, you can try very delicious Best Friend Double delicacy with chicken fillet, which can also be offered to larger dogs with stronger chewing power, as a treat! There are several low-fat options in Double chews, as well as grain-free and wheat-free options. That's why these delicious chewable bones are a great addition to a wide variety of diets. The chews containing real fillet also do not contain sugar. Double bones only contain high-quality and safe ingredients, nothing extra - double the taste just for your dog!
The meaty Double chew bones will entice even the pickiest dog friend to gnaw these dog chews instead of furniture or shoes! In addition to the natural desire to chew, dogs get many benefits from gnawing chew bones. Offering a variety of chews for your dog can be of considerable help in treating teeth, preventing gingivitis and plaque, and maintaining good oral hygiene.
Today is a good day for chews! - Choose Double dog chew with real fillet!
Read More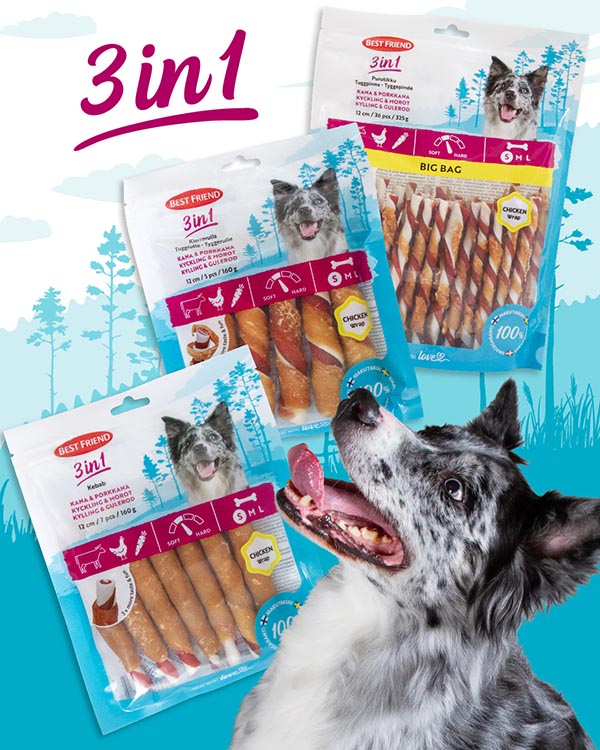 Best Friend 3in1 Dog Chews - 3 x more taste and more fun!
Our 3in1 chews combine deliciously three flavors and attributes! This is a unique product series and it is the absolute highlight of the dog's treat day!
The three different flavors and textures of the highly popular 3in1 chews make the bones irresistibly attractive to dogs! These meaty and very delicious chewing bones will make even the pickiest dog friend gnaw down the bone to the very last crumb! The all time favorite Best Friend 3in1 chew roll chicken & carrot is especially to dogs liking! The unique composition of 3in1 chews helps the well-being of the dog's stomach. The combination of thin skin and carrot filling gives a comfortable biting resistance, while at the same time being an excellent option for even weaker biters. The tasty chicken entices the dog to chew! 3in1 chewing bones are wheat-free and low-fat. These chews do not contain sugar. We have chosen only safe and high-quality raw materials for the chews, without anything extra - three times more taste for your dog's best!
By offering delicious and high-quality dog ​​chews to pass the time, your dog can fulfill his natural need to chew. When your dog is allowed to regularly gnaw chews, it comfortably contributes to the maintenance of the teeth condition and the general well-being of the mouth. You will surely find a suitable option for your dog in our comprehensive selection of chew bones!
Did you remember the chews? 3in1 chew bones offer three times more taste and fun for your dog!
Read More
Why Is It Good to Give Chewing Bones to a Dog?
There are different kinds of sweet tooths in many sizes and with various chewing powers among dogs. That's why when choosing chews for your dog, you have to consider several things depending on the pet's size, age and health.
Chewing bones are usually chosen based on the dog's size, chewing power and preference. The size of the dog often determines the choice of bone the most; a bone that is too big can be difficult for a small dog to chew, and a bone that is too small can be swallowed all at once by an enthusiastic big dog. If your dog gobbles up the bones in an instant, chew rolls and long lasting dog chews suitable for strong chewers may be a more suitable choice than the easier-to-eat munchy sticks. Munchy bones can, however, be given as treats to a dog with a strong chewing power. Sometimes the chewy composition of the dog chews can help avid gobblers to calm down and chew their bones in smaller pieces.
Versatility and experimentation is recommended when choosing dog chews. The more different chews the dog gets to taste, from a selection suitable for its size, the more pleasing it is for the dog to gnaw chews over time. It is good to remember to take the dog's daily energy needs into account when giving chews and other treats to your dog. The general guideline is that the share of chews and treats should be about 10% of the dog's total daily energy requirement.
Luckily, there are many low-fat options in Best Friend chews that are suitable for dogs of all sizes and ages and go well with different kinds of diets!
Remember to always keep an eye on your dog while he is eating chews and make sure that there is also fresh water available to drink for the dog all the time.
Read more tips on choosing dog chews for your dog from our website!

Easy to Choose!
In the color bar of our renewed package, you can easily find the most important facts affecting the choice of chewing bone: ingredients, chewing power and bone size. These facts will help you choose the most suitable and delicious bone for your dog, according to the dog's size, chewing power and taste preferences!
If your dog is a smaller one with weak chewing power, we recommend trying the S-sized chews with a softer chewing resistance. If, on the other hand, you have a large, strong-jawed chewer living at your home, you can find tasty chews for your dog in M ​​size with a stronger bite resistance.
In addition, the color of the bar also tells you whether it is one of our classic chews from Pure -series, a chew coated with real fillet from our Double -series, or a chew from our 3in1 -series with three times more flavor and fun!

Take a Peek Behind The Packaging!
Even the back of our renewed packaging has been given a new look! At the top of the package you will find more important facts that may affect the choice of chewing bone for you; e.g. icons indicating whether chews are grain-free, wheat-free, low-fat or sugar-free. These icons are product and product series specific, but the place of the icons in the top corner of the package always remains the same. Among the icons, of course, you can find delicious greetings from a dog friend!
The composition, raw materials, origin, manufacturer, nutrients and instructions for use of Best Friend chews can also be found clearly marked on the back of the package. High-quality ingredients and sustainable suppliers manufacturers guarantee that all our chew products are carefully made from the best ingredients, just for your dog. All the dog chews in our selection are either grain-free or wheat-free, and our chew bones also have plenty of low-calorie options, which makes them a perfect part of different kinds of diets. With the convertible energy mentioned on the package, you can easily make sure that your dog's intake of chews and treats does not greatly exceed the recommended 10% of the dog's daily total energy needs.
In the backside you can also find instructions on recycling the packaging as plastic, which makes it easy to recycle the empty dog chew bag correctly and responsibly <3
Nordic Best Friend
The products in our new chewing bone concept have been carefully selected based on the wishes of Nordic pet families and especially the preferences of their dogs. Every chew in the selection has been enthusiastically sniffed, tested and tasted by our own office dogs and found to be deliciously well working ones by our tailwaggers! So, we know what tickles your pet's taste buds! We at Best Friend have decades of experience in our work and we are also pet owners. That's exactly why we know how to develop and introduce the right products in our selection that your pet will fall in love with!
The Jäynä dog, already familiar from many of our previous packages, recommends Best Friend chews! Jäynä, an Australian Shepherd from Paimio, was chosen as the Best Friend Gear dog in 2015. Jäynä, who was barely a year old at the time, stopped by our office in Kuopio for a photo shoot. In the spring of 2023, nine-year-old Jäynä visited us again in Kuopio, and what a charming boy he still was! Jäynä wrapped everyone in the office around his paw! We were shown all the tricks and according to the owner, Jäynä's trip was "The best time ever, because he got to be the center of attention, and he didn't have to share attention with his brother Pähee :D"
The best chews for Jäynä and his brother Pähee can be found in our wide selection and the boys are happy with so many delicious options!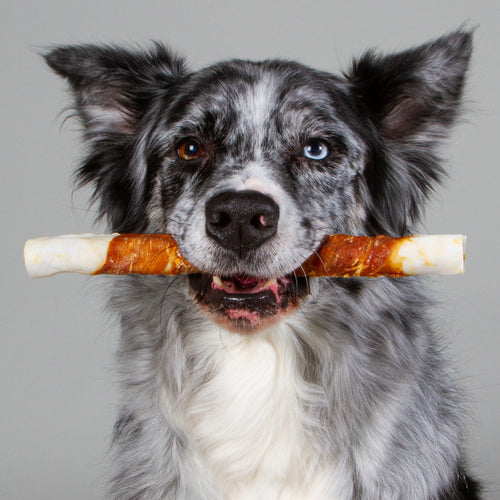 "So good you get super excited! 😄
And there's a special chew for every day of the week! ❤️
Best Friend chews are so delicious that even the family cat likes to butt in and ask for a share 😄
We try to give a bit different chew on different days, depending on how much rewarding treats have been used on each day"
-Jäynä the Dog
Treat With Love
For us, one of the most important values ​​is the well-being of pets. We work towards this value in all our daily efforts. This way we can develop and introduce safe and high-quality products to our assortment that are suitable for your pet. Decades of experience, as well as, high-quality product development and expertise stem from our Nordic roots. We believe that pets and their families deserve only the best - high-quality, safe and lovingly produced products.
That's why we stand behind our products 100%.
The Best Dog Chews For Your Best Friend
Best Friend's family thinks that when choosing chews, it is important to easily find the ones that best suit your dog. Ease of selection and purchase, easy-to-understand packaging and high-quality products have been the cornerstones of the design of our new chews concept.
In the future, you will recognize Best Friend chewing bones from the fresh and Nordic-inspired renewed brand look. Today is also a good day for chews, so did you remember them?
Check our entire selection of delicious chews here!