Best Friend Nordic Mini Bits lamb treat 120 g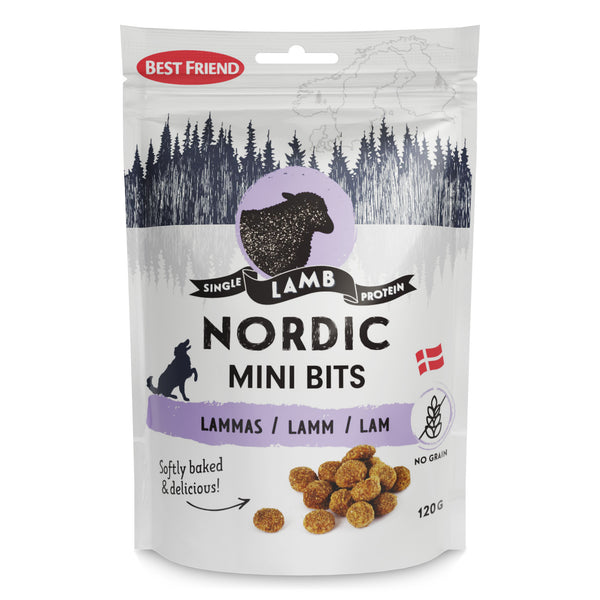 Best Friend Nordic Mini Bits lamb treat 120 g
From the finest Nordic ingredients. These tasty monoprotein treats are made responsibly in our own factory in Denmark. Softly baked and delicious meaty Nordic treats have unique veterinarian developed recipes, which guarantee mouthwatering sensations for even the pickiest taste buds. You can reward, train or offer these Nordic Mini Bits as a snack for your dog- these small treats are up for anything! Nordic Mini Bits Lamb is rich in local lamb and produced without grain. A bit of Nordic for your best friend.
Feed composition:
Pea starch, lamb meal (25 %), potato starch, glycerine, chicken fat, pea fiber, hydrolyzed yeast and lupine, minerals.
Vitamins:
3a671, Vitamin D3 900 IU
Natural antioxidants:
EU antioxidants and preservatives
Metabolizable energy:
300 Kcal / 100 g - 1256 kJ / 100 g
Trace elements:
Calcium iodate, water free 3,00 I mg Zinc chelate of amino acids hydrate 84,00 Zn mg Selenised yeast Saccharomyces cerevisiae CNCM I-3060, inactivated 0,09 Se mg
Fatty acids:
Omega-3-fatty acids, calculated 3,05 g Omega-6-fatty acids, calculated 22,09 g
Animal nutrients:
Protein: 17.5
Water: 18
Fat: 10
Fibre, crude: 5.5
Ash: 6.6
Feeding instructions:
Delicious snack which can be fed as a reward or a treat for your dog.
Consumer usage instructions:
Not suitable for puppies under 4 months old. Always ensure fresh drinking water is available. You should keep an eye on your dog when it eats.