Raising a Puppy:
Must-have Products for a Puppy
What to Consider Before Bringing a Puppy Home
Buying a puppy and bringing it home is an exciting experience, but it also brings along a lot of responsibility. Before you decide to get a puppy, it's good to consider few important things. Check below what to take into consideration before the puppy comes home.
Firstly, make sure that you have the time and resources to take care of the puppy. Puppies require a lot of time, attention, and training in order to grow into happy, healthy and well-behaved dogs. If you work long hours or travel often, it's a good idea to make sure that everyone in the household is involved in raising and caring for the dog - puppies require commitment from all family members!
Make sure you have a safe space in your home for your puppy, where the puppy can relax and play. This can be puppy's own room or some part of the house, where the puppy can feel safe and comfortable alone a bit further away from other family members or other pets. Check that there are no hazardous things in this puppy's safe space, such as electrical wires, poisonous plants, or small, swallowable objects that could pose a danger to the puppies. The puppy should also have a safe, preferably fenced area for outdoor activities, where the puppy can relieve itself in peace. This helps the puppy to learn house trained more quickly.
It is also important to be prepared for the financial costs associated with owning a dog. In addition to food and supplies, puppies need regular vet visits, vaccinations, and check-ups throughout their lives. By taking care of your dog's health care in a preventive way, you avoid the most serious problems. Make sure these dog care costs fit into your budget before you consider getting a dog.
Bringing a puppy home is an incredibly rewarding experience - but it requires careful consideration in advance! Make sure you are ready to take on the responsibility by choosing the right breed for you, creating a suitable living environment for the puppy, preparing financially for vet visits and supplies, and making sure that all family members are committed to taking care of the puppy before you make the decision to get a dog.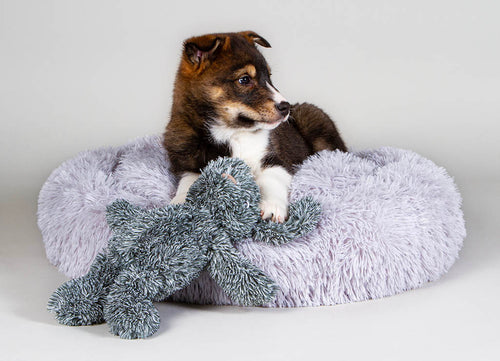 Must-have Puppy Products
Ensuring the happiness and health of a puppy requires more than just love and tender attention - in addition to the right type of food, you also need feeding bowls, water bowls, toys and other accessories suitable for the puppy, so that the puppy stays safe, comfortable and healthy in its new home. We have compiled some of the most important tips to ensure a happy and safe start to life for your puppy.
1. Feeding Puppies:
When the puppy moves to a new home, the breeder usually gives feeding instructions and often also food that the puppy is already gotten used to in its foster home. It is a good idea to let the puppy get to know the new home for a few weeks and get used to everyday life, before you can gradually change the food eaten in the foster home to a new one. When feeding a growing puppy, you should choose a high-quality dry food intended for puppies, the composition of which contains just the right ingredients for the beginning of a happy life. From Racinel Nordic Puppy Chicken food, the puppy gets all the nutrients it needs in the form of a delicious kibble. If you want to offer your puppy only raw or homemade food, remember to take care of getting the necessary supplements. In addition to the puppy's dry food, you can also occasionally offer the puppy; meat, homemade food, etc. mixed with the kibbles, thus helping the puppy to get used to different foods. Also remember to keep in mind that the dog treats and tasty snacks used in puppy training should be considered when calculating the puppy's daily total energy needs. Racinel Nordic Puppy Chicken dog food is suitable for puppies of all sizes and breeds, and is recommended to be fed to small dog breeds up to at least 10 months of age, to medium-sized dog breeds up to at least 12 months of age and to large dog breeds up to at least 15 months of age, so that the growing puppy will definitely get all the nutrients it needs and a high-quality start to a happy life.
2. Dog's food and water bowl:
It is important that your puppy has food and water bowls suitable for its size. Whether you choose a ceramic bowl, or a bowl made of stainless steel or plastic, keep in mind that the chosen bowl is as easy as possible to clean. In particular, the water bowl must be large enough. As the large breed puppy grows, you should also consider raised dog bowl holders later, so the bigger dog does not have to strain its neck when eating or drinking.
3. Dog bed: 
A comfortable bed for your dog is the key to a good night's sleep and wonderful daytime naps! Make sure you get a dog bed that's the right size for your puppy so it can stretch and straighten itself and that has room for the growing puppy. You should choose a dog bed with removable; easy-to-wash covers. This way you can keep the bed clean and hygienic.
4. Dog collar, harness and leash:
Every puppy needs a collar or harness and a leash so that you can safely take it outside for a walk. When choosing a collar or harness for your dog, make sure that the product is easy for the dog to put on and that the size is right - not too tight and not too loose - so that the puppy feels comfortable when outside. It is also good to have room for adjustment in the collar or harness keeping in mind the needs of a growing puppy.
5. Dog toys and chew bones:
Playing is an essential part of a puppy's life, as it develops the puppy's motor skills, maintains good health, creates pastime entertainment and strengthens the bond between the puppy and the owner. Before the puppy goes home, it's a good idea to get dog toys to home that are made of durable materials, such as rubber or rope, and that don't break easily when chewed. To get rid of the chewing urge, you can also get chews for the puppy, which can help to keep the teeth clean and also provide suitable pastime activity for the dog! Remember to always supervise your dog when he is playing with toys or chewing on a chew bone. Read our tips for choosing a chews for your dog.
6. Grooming Products:
Regular fur care and nail trimming is important, and it is worth getting your puppy used to grooming procedures from an early age on. Learning care procedures with a small puppy also makes it easier to handle the adult dog. Choose the brushes and combs that are best suited for your dog's fur care, as well as shampoo designed for dogs, which you can use to wash the fur when necessary.
Trimming puppy's nails is an important part of a dog's care and well-being. Nails that are too long can cause pain and discomfort for the dog when walking and running. It is important to get the puppy used to clipping nails by rewarding them with treats, so that nail clipping becomes a pleasant moment for the puppy. You can, for example, teach the puppy to calm down at the beginning and get it used to handling the paws and nails by touching, so that the puppy does not startle or fear the situation. Trimming a puppy's nails can be done at home. To cut nails at home, you need nail scissors or nail clippers. If for some reason you do not feel confident in trimming your puppy's nails, you can always ask a veterinarian or dog groomer for help. They are trained professionals who are happy to help you trim your dog's nails and give advice on how to trim nails easily and safely.
A puppy can also be taught from an early age to take care of its teeth daily with a toothbrush and toothpaste intended for dogs. With regular training and by trying different brushes, you can find the most suitable dental care routine for each dog.
7. Puppy Pads and poop bags:
 With the help of high-quality and absorbent puppy pads, it's easy to practice potty training for the puppy at home - and at the same time save the floors from moisture damage! The pads can also be used as protection, for example in a transport box or as protection for furniture. The high-quality puppy pad absorbs moisture quickly and the plastic bottom layer prevents leaks on the floor. Also, no ink is spread on the floors by little paws as, for example, might be the case with damp newspapers.
For general comfort and health reasons, it is the responsibility of every dog ​​owner to collect dog poop from the built-up areas. So, it's worth getting durable and preferably environmentally friendly, waste bags which are e.g., made of recycled plastic and bring them along on all your outdoors walkies and hikes!
When you have all the necessary products your dog needs in your home, it's easy for you to make sure that you're prepared to take care of your pet in the best possible way. The puppy, on the other hand, gets a happy and healthy start to life as soon as it arrives at its new home!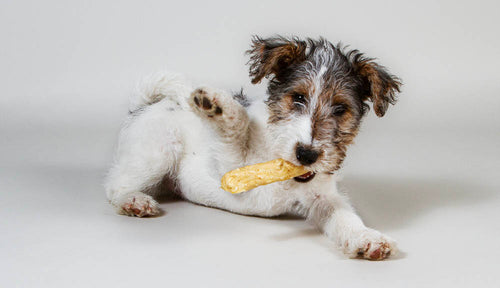 Understanding Puppy's Basic Needs 
Pets are a great joy in their new home, but pets and especially puppies require special care. Understanding your puppy's basic needs is essential to ensure a safe and happy life for your dog. From feeding to socialization there are many factors that affect puppy's well-being.
Feeding your puppy is one of the most important factors in caring for your pet. Puppies need balanced and high-quality food that meets the needs of their growing bodies as well as their energy and nutrient needs. It is important to give the puppy enough food, but also to avoid overfeeding. The puppy should be fed at regular intervals throughout the day and the puppy's diet should be adjusted as it grows.
In addition to regular meals, you can also give your puppy healthy treats as part of its diet. Training treats and other dog treats are good snacks for dogs and can be used as rewards during obedience training and leash training. Just remember not to exaggerate the amount of treats - their share of the dog's total daily energy needs should not exceed 10%. If necessary, a larger daily dose of dog treats can be taken into account in connection with the rest of the puppy's feeding.
It is also important to remember to ensure that the puppy has access to plenty of fresh water at all times, so that the puppy's body remains hydrated and healthy. Additional instructions on feeding the puppy can be obtained from the breeder or veterinarian.
Exercise is another key factor in a dog's happy and healthy life. Regular exercise helps to keep the puppy active and in good condition, and at the same time, the puppy uses up extra energy, which reduces disruptive behavior in house. The more varied exercise and training the puppy gets through outdoor activities, play, swimming or hobbies, the better condition the puppy will be both physically and mentally.
Puppy socialization is also an important part of puppy care. Safely walking the puppy outside in the neighborhood and getting to know other friendly dogs, animals and people helps the puppy get used to different environments and learn the right behavior when interacting with others. Through socialization, the puppy learns to interact with other animals and people in a positive way, even as an adult.
During the socialization period, familiarize the puppy to as many different places, sounds and things as possible. You can also sign up with your puppy for a puppy course at a dog school, where the puppy learns basic commands while getting to know other dogs safely.
It is also important to give the puppy plenty of love and affection every day! Showing love,  and tender care for the puppy and doing things together help build trust between the puppy and the owner. Building a trusting relationship is hugely beneficial when it's time to practice for more challenging situations, such as a visit to the vet.
By understanding these basic puppy needs, owners can ensure that furry friends live a happy life full of love and fun!